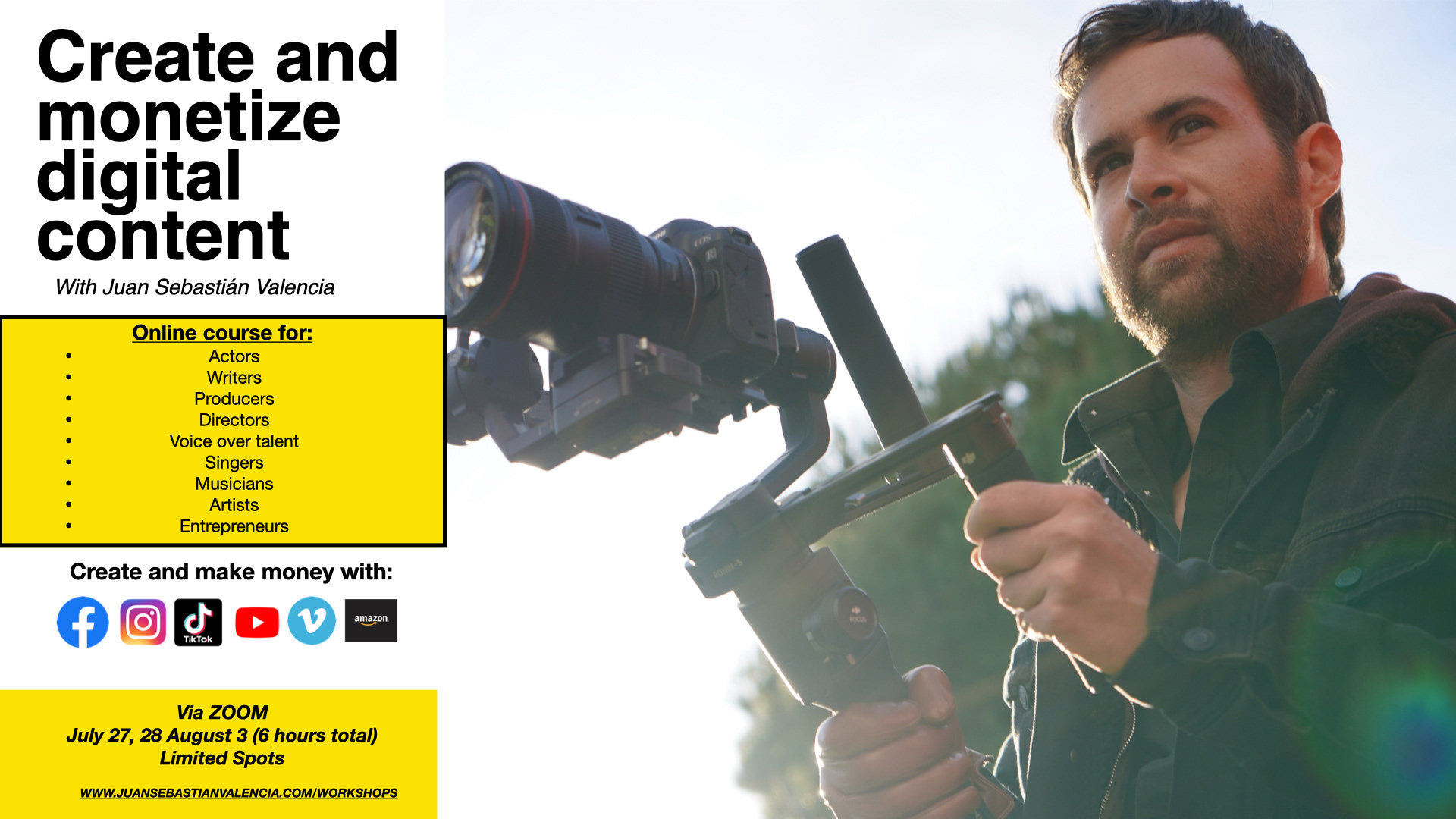 Hour and location:
Agosto 15, 16 y 17 - 6:00PM - 8:00pm PDT (total 6 hours) via ZOOM.
Via Zoom from Los Angeles to people from anywhere in the world. 
Limited space, reserve your spot. 
About the course
In this course you will learn the art of creating and monetizing digital content for all platforms, whether you are a member of the entertainment industry or a person who knows how to do something special that they can share with the world and wants to earn money from it. 
The course is theoretical and practical. Workshop style. 
Divided into 4 two-hour sessions 
 1. Introduction to digital content. 
2. Creation and tools for digital platforms. 
3. Create a business with your content. 
4. Build strategies to make money.​​​​​​​ 
You will receive training that will allow you to recognize the content that you have or can create and build a business and a strategy for it to be successful. You will receive digital material such as programmed templates for you to elaborate your own strategies.
About the instructor
Juan Sebastian Valencia is a Colombian writer, director, content creator and producer based in Los Angeles, CA. Bachelor in Business Administration from EAN University in Bogota and Master of Fine Arts in Filmmaking from NYFA in Los Angeles. A multifaceted artist who has released books, movies, digital content, and has worked for international brands and celebrities. His work on TikTok has been viewed by more than 12 million people and his YouTube videos have reached 3 million views.​​​​​​​
Payments
Price: USD $120.00.  3 days of 2 hours each.
Payment
 USA: Zelle, Venmo, Wire Transfer, Paypal.
International: Transferencia internacional bancaria o PayPal.
*Colombians: check the Spanish course with a special price.